PROFESSIONALISM AND CUSTOMER SERVICE
*************************************************************************************

Professionalism means that your conduct has to remain above question at all times - and has to fit in with the circumstances and situation.

Many business deals have been lost due to unintentional lack of manners or etiquette. Ignorant, unintentional behaviour,causing people to feel disrespected or abused has lost organizations and business leaders a lot of money and respect.

You may never be given a second chance to find out what went wrong. You need to make it your business to know as much as possible about the client's culture and expectations.

This requires understanding and commitment to:
Acting professionally at all times in the workplace and with clients.

Better business etiquette and manners.

Improving your image.

Minding your manners.

Improving your own skills and knowledge.

Acting respectfully in the workplace and with clients.

Being caring and compassionate.

Communicating with integrity.
The Do's and the Don'ts of Personal Appearance:
Hair.

Clothing.

Jewellery.

Make up.

Shoes.
looking at dress code for men.
Men are encouraged to wear neutral colours

Stick to wearing dark coloured pants with dark socks and matching shoes.

For the office environment that is more casual, a smart pair of jeans with a button shirt or plain jersey is highly recommended.

Wearing a tie and a jacket is sometimes reserved for those all important board meetings and more formal occasions.

A clean shaven face, tidy nails and well kept hairstyle are important aspects to remember.

Shining your shoes is advice that costs little but creates a huge impact.

As for jewellery, men and woman alike are discouraged to layer themselves in gold and diamonds. Regardless of popular belief, "bling"is not in, in the business environment.
looking at dress code for women.

Hair
This needs to be kept clean and tidy. Outrageous hair colour is discouraged unless you are the latest rock star.

Hair needs to be kept out of your face in a style that is not distracting for either you or your customers.
Clothing
Woman should also stick to neutral colours. Pants, long skirts or knee length dresses or skirts in dark colours portray a sense of professionalism.

Tops need to be conservative and comfortable; no one wants to see your latest body piercing or tattoo.

Tops should be loose fitting and not too low cut.

Woman are discouraged to wear a lot of glitter and accessories during the day.

Women tend to be taken more seriously when they wear pants than when they wear a skirt or a dress. That choice however does lie with you and your work environment.
Jewellery
As with men this should be kept to a minimum.

Any other type of piercing is discouraged in the work environment as they are distracting and sometimes not pleasing to the eye.
Make up
Shoes
These should be comfortable and look neat.

Woman need to make sure that the shoe fits perfectly.
PROFESSIONAL BEHAVIOR
professionalism means that your conductor behavior has to remain above question at all times.

Professional behavior is a key part to creating and maintaining your overall professionalism in a business context.

Within the business environment, it is generally accepted that professional behavior is measured by the following criteria:
Appearance.

Etiquette (manners).

Punctuality.

Delivery.

Confidentiality.
CUSTOMER SERVICE
Around the world, manufacturing markets are changing into service markets, and society is becoming more and more service aware. What does this mean for you as an entrepreneur? In the past, customers had relationships with the product only, which is no longer the case. Relationships are becoming more and more important.

Research has shown that 70% of the reasons why organizations lose their customers has very little to do with the product, but everything to do with the service they provide!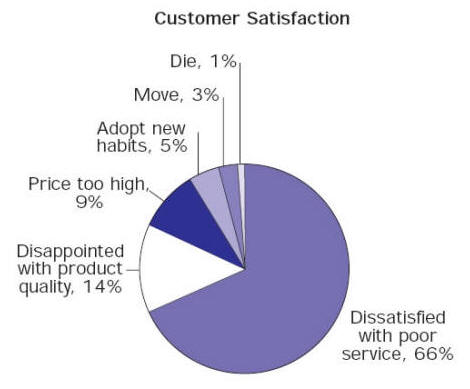 * Buy the SME Toolkit for more details about Professionalism and Customer Service